December 13th, 2007
Well, I am here to report, that we just finished up 3 amazing days at Kampo Studios on Bond Street in lower Manhattan. After 2 months of rehearsal, the Code Ensemble nailed the basic tracks for two new discs. "The Re-Taking of Pelham 123" & "Invasion from the Chicken Planet". Huge kudos must go to the players, they rocked the house & I could not be more pleased with the results!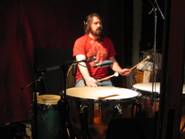 Andy Barbera - guitar
David Nadal - guitar
Nate Shaw - keys
Daniel Kelly - Keys
Devin Maxwell - percussion & conductor
Michael Evans - drums
They all played their asses off & I am humbled to work with such talented musicians. Their musicianship & dedication is un-surpassed, hats off to ya fellerz!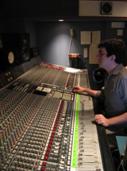 Also, let us not forget our engineer Rob Carpenter who also worked his bootay off to make these tracks sound great. They really do, warm & clean, like a new puppy.
The room at Kampo is sweet. Check them out on line at http://www.kampo.com/kampo/index.html. Matt who runs the place is off the charts nice & they really took great care of us. Bill Lazwell has recorded there, along with a laundry list of who's who's.
It all started with a 4 hour setup on Saturday night the 8th. We then came back in bright & early on the 9th & 10th for tracking. We started with "Invasion" and finished the basic by around 5pm. Then after a short break we jumped right into Pelham & finished the Title Theme, credit roll & an intense little short number called "Stop Frame" in record time, out the door by 8pm. On Monday, we jumped right back into Pelham & finished up the other sections by about 3pm. Then, we did overdubs and any re-tracking for clams (bad notes) from 3-5.
This was an insane amount of music to record in such a short time (over 60 minutes) & would never have been possible without the months of rehearsal before hand. The cool thing is, that the band peaked in the studio & that almost never happens. It was a really fantastic music experience.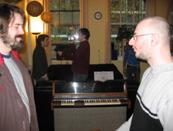 Thankfully, the folks from Electronic Musician were covering the whole thing on video for a piece they will run on their site when the disc is ready for release in late January/Early February. Also David Weiss, Writer Extraordinaire (Mix, Among others) was seen lurking around & digging the sounds.

Now the process of editing the best takes together will start, from there I will bring the session over to the studios of the Manhattan Producers Alliance (http://www.manhatpro.com).

for overdubing & mixing. We still need to record String Quartet, Tuba, Trombone and Voices as well as adding the secret sauce to finish the final recording off. It will be a lot of work, but well worth it, trust me.

Dig this, as I was sitting there the next day, completely fried from the most intense 3 day session of my life & checking the tracks, the phone rings & it is from the RUMOR festival in Utrecht, Holland, They are interested in booking the full ensemble for a tour in May, how cool is that!

Stay tuned for CD's, Downloads, Video & live performances all coming your way in 2008.

Happy Holidayz, Happy New Year & till soon...
-SHout
---